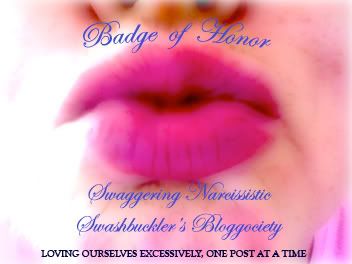 Kelly
had the right idea when she did
this post
. Being a Swaggering, Narcissistic, Swashbuckling Blogger is cooooooooool. I bet the "
cool kids
" don't have this yet!
Wait, does that make me vain and petty? Does it? Oh gee, I really hope so!!! *snort*
Thank you to everyone who commented on my post about the kids. I have not only wonderful children but wonderful blog friends as well. I appreciate that.
Tomorrow I take the kids to the State Fair. Wish me luck because Mama is gonna be wiped outtttt for days afterwards! lol
Oh and by the way, watch this blog and my reviews blog for a chance to win a Deluxe Cinderella dress up costume from Little Adventures coming soon. As in next week. As in, if you read here regularly, have little girls, and DON'T enter I take you off the VIP list! HA!! MonkeyBoy received a Fireman costume from them and I'm honestly impressed with the quality of it.
So let everyone you can think of know so they can enter too!