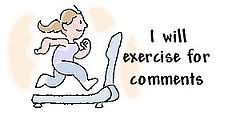 Okay so maybe I won't actually agree to sweat but I will agree to exercise. Thanks to Elizabeth at Table4Five, I found this great idea of exercising for comments and have decided it's just what I need. Moving my fat ass has never been one of the top things to do on my list even but I know it's something I really need to do. I need more exercise to combat some of the pain and I'd really love to lose at least a few pounds.
So here is where YOU come in. For every comment you make on this blog (any post past, present, or future) I will do one minute's worth of exercising up to 45 minutes per day. I'd go a whole 60 per day but I'm not going to push it just yet.
The way it will work is if you comment on one of my posts (with more than just "Hi Jo" please) then I will owe you one minute of exercise. There is no limit on how many comments you can make so enjoy going back through my archives and getting to know me a little better. I will compile the time up to 315 minutes for the entire week and work off what I owe as the week progresses.
I will post the total number of minutes I owe for the week each day plus how many minutes I've already completed. So it will look like this...
Jo Owes Her Readers ___ Minutes Of Exercise This Week.
She Has Completed ____ Minutes So Far This Week.
So how badly do you want to make Jo move her ass? I guess we'll find out right?